Get Started with Threads: Threads is a fantastic app brought to you by Instagram. It offers an exciting way to express yourself and connect with others. With Threads, you can create threads, reply to others, and follow profiles that catch your interest. The best part is, you have the freedom to share various forms of content such as text, links, photos, videos, or even a combination of these!
Table of contents
One of the coolest features of Threads is that people can follow you and see all your amazing threads and replies right in their feed and from your profile. It's a great way to stay connected and share your thoughts with your followers.
Threads opens up a whole new world of communication and expression. So why wait? Join the Threads community today and start sharing, connecting, and discovering exciting content!
Get Started with Threads
How to Create a Profile on Threads
To join Threads and start sharing your thoughts and connecting with others, follow these simple steps: Get Started with Threads
Download the Threads app from the App Store (iPhone) or Google Play Store (Android).
Open the app by tapping on it.
Sign in with your Instagram account by tapping "Sign in with Instagram" at the bottom. If you don't have an Instagram account, don't worry, you can create one.
If you're not signed in to the Instagram app, tap "Log in with Instagram" to sign in or create an account. Once you've logged in, you'll be redirected to the Threads app.
For those with multiple Instagram accounts, tap "Switch accounts" to sign in with a different one. If you can't find your desired account, select "Log in to another Instagram account" and enter your login details.
After logging in with your Instagram account, you can customize your Threads profile:
Upload a profile picture by tapping the icon next to your name and selecting your preferred upload method.
Write a bio by tapping "Bio" and entering a short description. You can either type it manually or import your Instagram bio.
Add links to your profile by tapping "Link" and providing a URL and title, or import them from your Instagram profile.
Discover profiles to follow by tapping "Following" to see a list of suggested profiles. Follow the ones you're interested in.
Import all the above information from your Instagram profile by tapping "Import from Instagram."
Tap "Continue" at the bottom.
Choose whether you want a public or private profile, then tap "Continue" again.
Review the terms and policies, and finally, tap "Create profile" at the bottom.
How to Use Threads
Once you're all set up with Threads, here's how to make the most of the app:
When you open Threads, the first thing you'll see is your feed, which bears a resemblance to platforms like Twitter. It contains a mix of posts from the accounts you follow and popular accounts. You'll find a variety of content, including text, images, and videos. Familiar features like quote tweets and reposts are also available. Get Started with Threads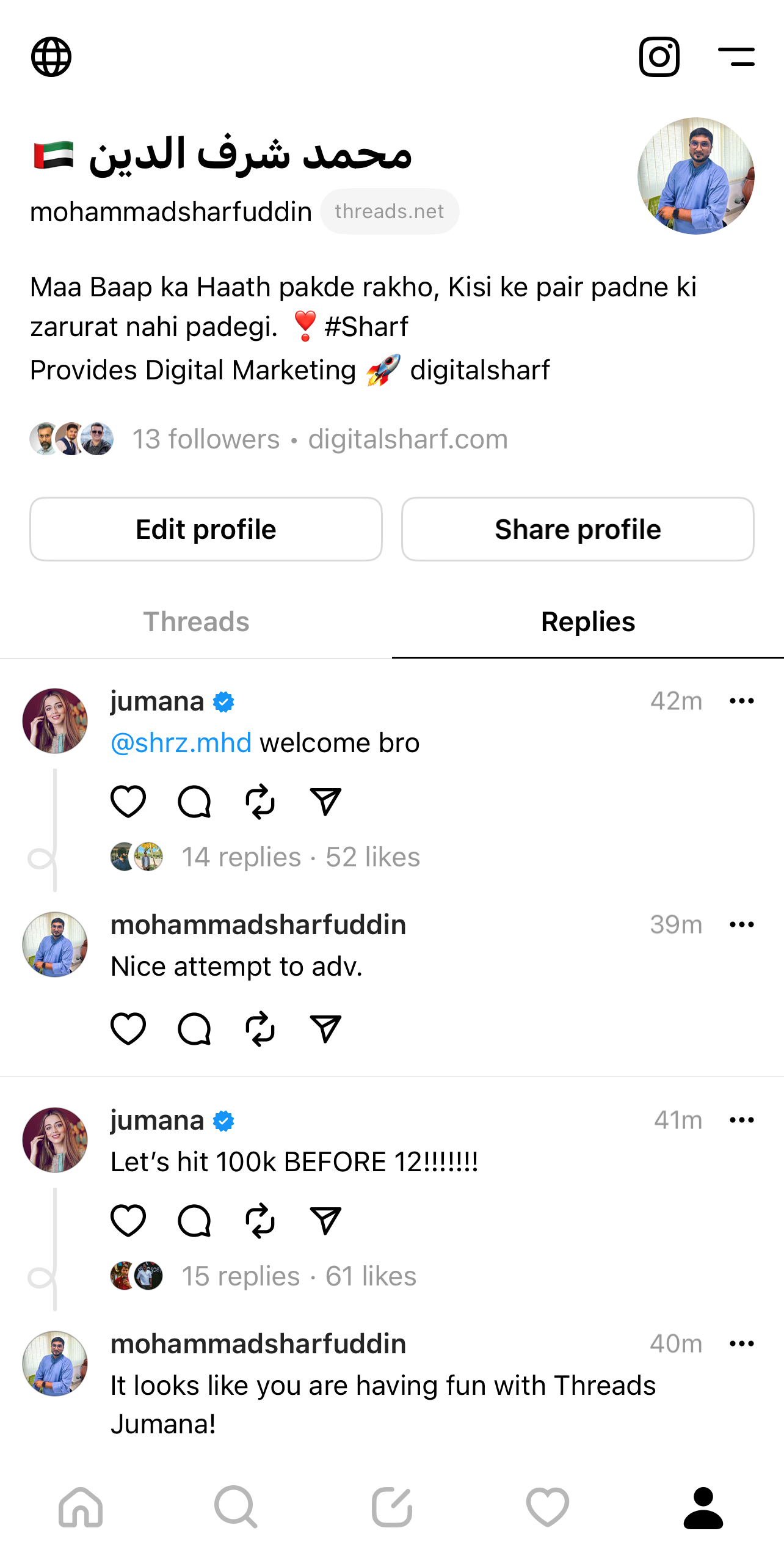 At the bottom of the screen, you'll see five icons for different functions:
The Home icon takes you to your feed.
The Search icon allows you to discover and follow new accounts.
The Heart icon shows activity, such as follow requests, replies, and mentions.
The Profile icon displays your own posts and replies. It also provides options to edit or share your profile.
In the center is the Post icon, where you can create a new post. Keep in mind that there's a 500-character limit. If you exceed this limit, the extra text will be highlighted in red, and the Post button will become inactive. Once you're back within the limit, the button becomes active again. You can also click the Paper Clip icon to add photos or videos to your post.
How to Interact with Posts on Threads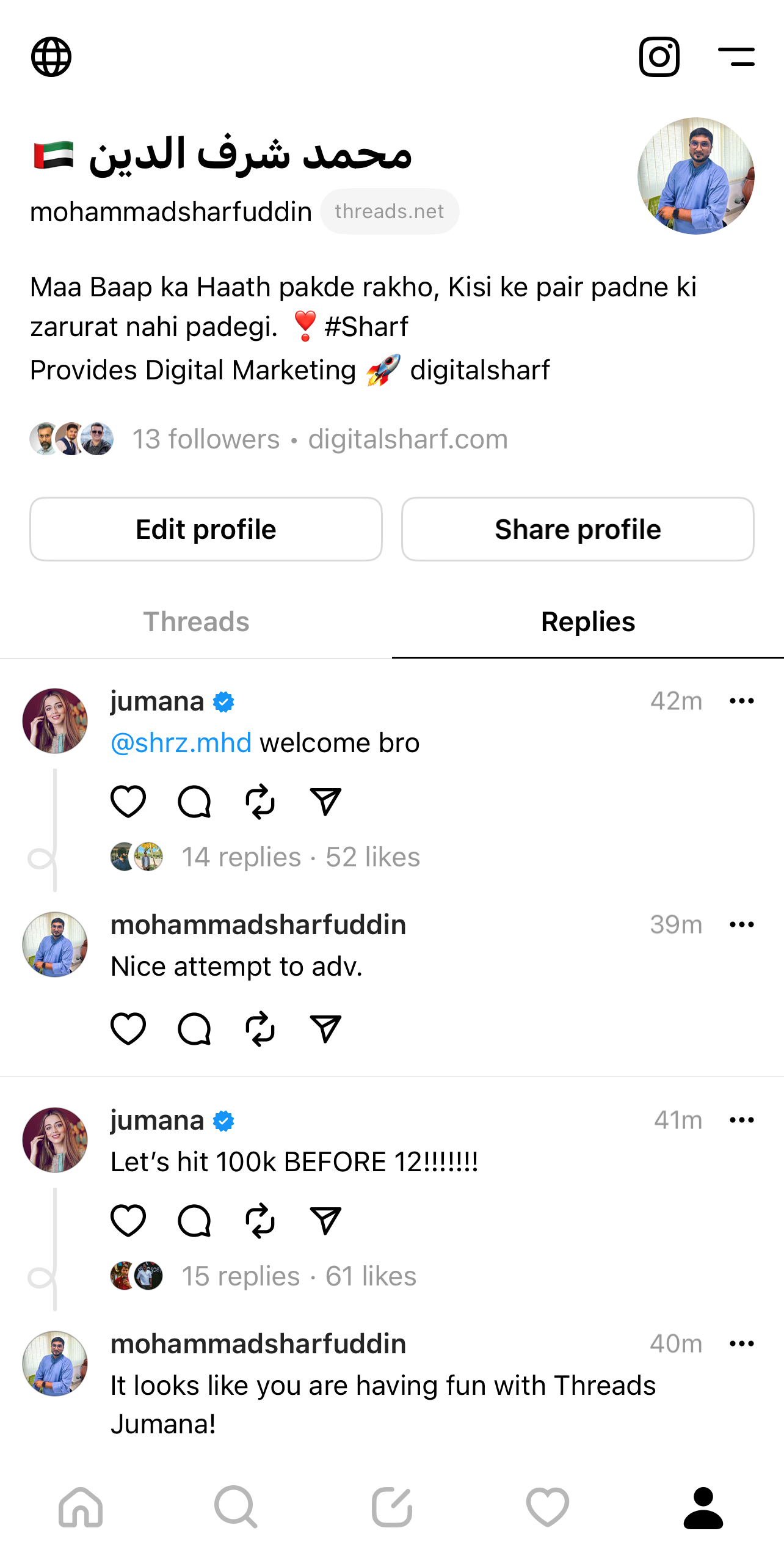 To engage with posts in Threads, follow these steps:
Beneath each post, you'll find four recognizable icons:
The Heart icon allows you to like a post.
The Speech Bubble icon enables you to reply to a post.
The Double Arrow icon
gives you the option to repost or quote a post, just like you're used to.
The final icon, the Paper Plane icon, offers something unique. By tapping it, you can add a post to your Instagram story or directly to your Instagram feed. Expect to see a lot of crossover between Instagram and Threads. Meta aims to attract as many of its one billion plus Instagram users to the new platform. You can also copy a link to a post or share it through the sharing options on your phone.
How Threads Differs from Twitter
Threads shares many similarities with Twitter but also has some key differences. Here's what sets Threads apart:
Threads looks nearly identical to Twitter, allowing users to post text-based messages to a scrolling feed where followers can reply.
You can also post photos and videos on Threads, just like on Twitter.
However, Threads does not currently support direct messaging, which is a feature offered by Twitter. It's important to note that Instagram may add more features to Threads based on user feedback.
Threads provides a user-friendly and engaging platform for sharing, connecting, and discovering content. Join the Threads community today and start expressing yourself in a new way!